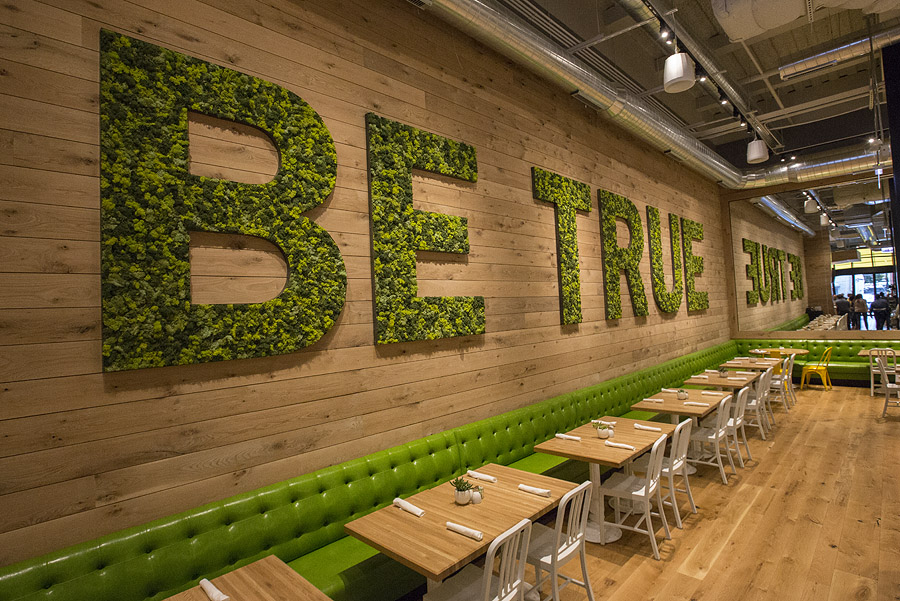 24 Jan

True Heart in True Food Kitchen

Bright, fresh flavors make the mouth happy. But it's the organic ingredient sourcing, anti-inflammatory menu, and relaxing atmosphere that make for a truly nourishing experience.

Lettuce Eat founders, Carlee Kelly and Megan Reed, simultaneously discovered True Food Kitchen happiness.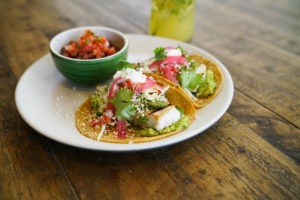 The two nutritionists were traveling separately, Carlee in Denver, and Megan in Scottsdale. They arrived back in Portland, each raving about an amazing restaurant they'd discovered, a restaurant that was doing everything right.
It turned out, unbeknownst to each other they'd each eaten at a True Food Kitchen at the same time on the same day. They'd even ordered the same thing!
They were inspired to sit down with True Food Kitchen's CEO Christine Barone and Director of Marketing Shannon Keller to learn how the popular restaurant brings real food to the table.
True Food Kitchen, the inspiration of Dr. Andrew Weil
True Food Kitchen is the inspiration of Dr. Andrew Weil, considered one of the founders of the integrative health movement focused on an anti-inflammatory, plant-rich diet with an emphasis on whole, unprocessed foods.
Dr. Weil approached Sam Fox, a well-known restaurateur, with the goal of designing a restaurant that was creating healthy, delicious food that promoted guests' well-being, in an atmosphere that they were excited to come to.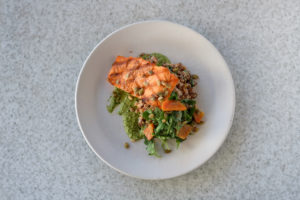 Lettuce Eat: What was the inspiration for creating this type of restaurant?
It's very purposeful, you can see the preparation of your food in front of you. We are going for openness and transparency in the design principles of our restaurant. More often than not, when you walk into a True Food Kitchen, you'll see someone slicing vegetables and getting ready to prepare your meal.
Why was a seasonally focused menu important to True Food Kitchen?
We highlight vegetables and fruits at the very height of their season when they taste the best. We're also introducing our guests to new seasonal vegetables. When you eat seasonally, you know you're getting something fresh.
Part of our mission is to explore new flavor profiles and new vegetables with our guests that they may have never tried before. A seasonal menu allows guests to come in and experience True Food in a different way depending on the season.
Why did True Food Kitchen choose to focus on an anti-inflammatory approach?
The anti-inflammatory principle is really about approaching food as a lifestyle rather than a diet. It's a balanced approach to eating. We're taking whole foods and offering them up in the state that they should be, rather than from a short-term perspective with a short-term goal.
We also feel that our dishes should be simple and highlight the natural flavors that are in them. We minimize sugar, use lean protein, emphasize whole grains, and nutrient-rich fruit and vegetables. We highlight their flavor with simple dishes.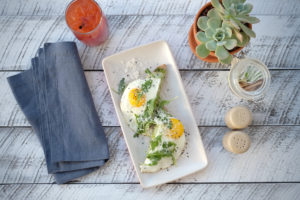 What is the culture of True Food Kitchen?
We try to be more than a restaurant. It's a way of life. It's about wellness and the wellbeing of our guests and staff. We build that lifestyle by doing community-based activities. For example, we offer yoga classes in the restaurants. We want to build a broad community within True Food Kitchen.
Our passion is for well-being and making the world a better place. We always have delicious food, but we hope you leave our restaurant having learned more about food and feeling like the experience has uplifted your day. That is really what makes us special.
We loved the environment and natural beauty of your spaces.  
People love our atmosphere. Our staff makes that world come to life. They have a passion for sharing true food with our guests. It makes us special. That's why folks come back for a second, third, or fourth time!
Is Dr. Weil still designing the menu? What is his involvement now?
He's still on the culinary team.  He helps identify new ingredients and techniques. We have a whole culinary team that comes up with new recipes and ingredients, but Dr. Weil helps make sure it all meets our principles.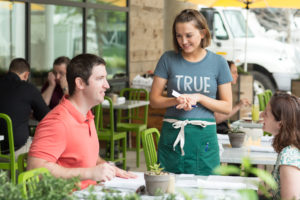 Clean ingredients start at the source
Ingredient sourcing is very important to us at Lettuce Eat.  How does True Food Kitchen source their foods?
We source ingredients both locally and nationally. We're thoughtful of what food is and where it comes from. When we find a like-minded supplier who provides nationally, we'll work with them. If foods are in season and we can find them locally, we'll do that.
Sometimes, we will use unique ingredients that are grown in a certain region. If they're special and we know how they're sourced, we'll bring those into our restaurants, too. We're just careful.

We noticed your restaurant teams were wearing inspirational shirts. Can you tell us the meaning behind those?
The employees get to choose their shirts. It's a conversation piece and something that allows the server to create a touch point with the guests. We've received so much feedback from our guests that we've started a merchandise line with t-shirts and other items like water bottles and tote bags that you can take the farmers market.
True Food Kitchen is a great example of a restaurant who's doing it right! Their thoughtful approach to food: which foods are chosen for the menu, where they come from, how they're prepared, and how they're served all contribute to a food experience that goes beyond taste.
Although considering the meal that Carlee and Megan enjoyed, taste is definitely on the menu!